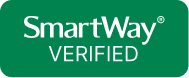 U.S. EPA'S SmartWay Transport partnership is a market-driven partnership aimed at helping businesses move goods in the cleanest most efficient way possible. Since 2004, SmartWay partners have eliminated 51.6 million metric tons of CO2, resulting in savings of 120.7 million barrels of oil and $16.8 billion in fuel costs.
Roadmaster tires offer a full range of SmartWay verified tires. These tires meet the program's stringent low-rolling resistance criteria -- helping to reduce fuel consumption, lowering operating expenses and benefiting the environment.
Learn more about SmartWay by visiting www.epa.gov/smartway.