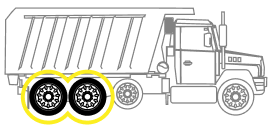 The RM351 HD is the newest edition to the Roadmaster® line of mixed service products. This highly versatile on/off road drive tire includes attributes specifically tailored for mixed service applications, such as logging, mining, and construction. The deep lugs, cut and chip resistant compound, and stone ejectors provide the performance and durability required while operating in both on and off road conditions.
Error: You need to add at least two tires to compare.
Error: You've reached the maximum amount of tires to compare.
{product.altText}